Simple Objects
The Four Primitives of Shape
The basic premise of Simple Object Topology is that all real objects can be described as simple objects by using one or more of the following four primitives of shape:
The rules allow us to deform objects as if they were made of modeling clay. However the initial primitives of shape are conserved unless we perform some topological procedure that allows change.
The other three primitives of shape are secondary topological properties that can be added or removed from the primary ball shape by appropriate topological procedures.
That is it. Consider any real object and see how it works. For complex real objects, the description can get very tedious, but you will only need these four primitives of shape.
Topological Translation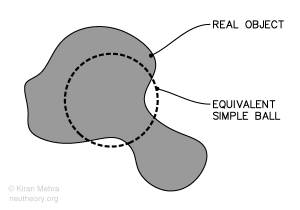 Figure 0.2 – Topological Translation
Topological translation is an imaginative process by which all real objects can be considered as equivalent simple balls by removing deformation. This can visualized by assuming the real object is similar to "modeling clay" which can be reformed into a ball like shape. This reforming is not allowed to remove or add any primitive of shape to the original object, e.g., a cup can be shaped into a donut, or a ball with a handle, as long as the hole remains. No loss of material occurs, and the average density (volume) is maintained. Only the surface area changes. See Figure 0.2.
Topological Operation
A topological operation is an imaginative surgical procedure by which you add, remove, or modify a secondary primitive of shape. This is considered different than topological translation where the primitives of shape before and after translation remain the same.
An topological operation is always clean which means there is no loss of physical quantity after the procedure, though the quantity may take different forms. Making a hole, a hollow, or a strut is a topological procedure.
The following topological procedures are used by the Neu Theory model: